For this week's Blog Love feature, we have the lovely Ron of
Dresses on a Clothesline
! Ron is not only adorable and stylish, but she takes beautiful pictures. And, she sews things! Gotta love them crafters.
Do you have a formula for getting ready in the morning? (ie, first a top, then accessories, or is certain music necessary?)
I can't say I do, apart from just choosing an outfit I already know works. On dull days I sometimes dump my wardrobe onto my bed and try to brainstorm new combinations, trying each one on to assess how wearable it really is. That way, when I'm in a rush in the morning, I don't get stuck in a rut when I have nothing to wear. When I have more time to get dressed, I turn on my music (whatever I think suits my mood best at the moment I'm dressing) and let that inspire me. An outfit can be ruined without the right shoe, that's what gets me stuck most of the time.
Your style isn't something that is easily categorizable; you're not Girly or Edgy or Boho. How would you define it?
Thrifty-chic, though that's a rubbish description. I also like vintage, without looking like a history book illustration. Some of my friends call me a hipster, I guess I am a bit of a cookie cutter hipster, I feel right at home in East London. On the other hand I also love being out in nature, so I love florals and long flowy dresses.
How did you personally come into this style?
Up until I was 17 I couldn't have cared less about what I wore, it was all jeans and a hoodie. Then I bought my first pair of jeans on my own (yeah, until I was 17 I'd only ever gone shopping with my mum), they were a pair of cheap skinny jeans on sale at Zara. Since then I feel that my style has been improving and slowly my wardrobe has been evolving to reflect my personality better (discovering thrifting helped a lot), I'm still not there, but it's light years away from what I initially thought was "stylish".
What would you advise someone trying to find their own style do?
It's difficult to decide on a style when you don't know what the possibilities are. Peruse the internet to find inspiration. Be a picky buyer, that's probably the hardest point, but imagine the item on someone else, would you think, "I want it, I want it now" or "It's nice, but it's not that great"? Also, try to imagine it working with the rest of your wardrobe. Finding your style won't happen overnight, it's more of an evolution.
Do you have any style icons or sources of inspiration that you're willing to share?
Rather than choose a single style icon I grab inspiration from everywhere. I decided to get a tumblr so that I could keep a collection of my inspirations, it's like my online scrapbook (http://bookofcosmia.tumblr.com/). Some stylish people I admire: Joanna Newsom and Florence Welch. Great catalogues: Urban outfitters. Brilliant photos: Tim Walker.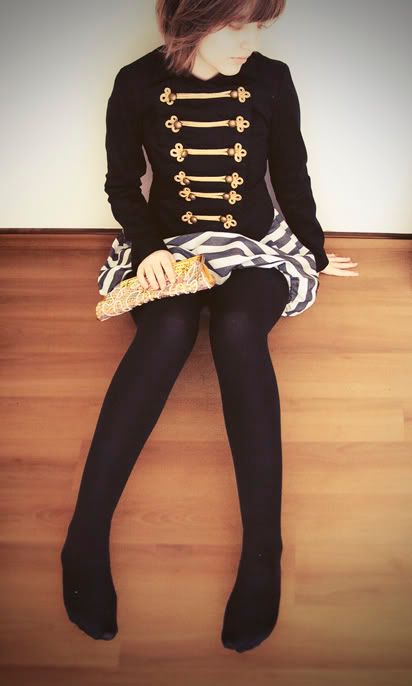 What are your favorite 3 pieces and why?
This is a tough one.
Dual tone brogues: I found these in patent leather in a dark burgundy and ivory, make any outfit look awesome. Best of all they only cost me 4 pounds.
Vintage upholstery coat: Another thrifted find, when I wear it I'm often told I resemble some old relative's furniture or curtains. I guess it would be a great camouflage.
Vintage silk blouse: I'm adamant that it's perfect for any weather and all occasions, it's wonderful to the touch and has a subtle paisley print which I adore.
Do you feel you have any trademarks?
For about a year, it's been hats, felt bowlers in the winter and anything made of straw in the summer. I don't think I've developed my style enough to have a trademark though. Unless wearing flats counts as a trademark, I think it's more a sign of being practical and a little lazy.
Do you have any advise for taking pretty pictures for photography newbs?
Use a tripod, helps in low light and if you want to take self-portraits. Really get to know your camera and don't be afraid to edit your photos after your done. Take your time taking and editing photos, as they say, Rome wasn't built in a day.
If you could only eat one food for the rest of your life, what would it be?
I love food, I can't choose just one thing. If it were one item it would be sour crunchy apples or maybe passion fruit, I never get sick of passion fruit. A single dish, fried egg sandwich, or maybe I'm just craving one right now.
Thanks, Ron!